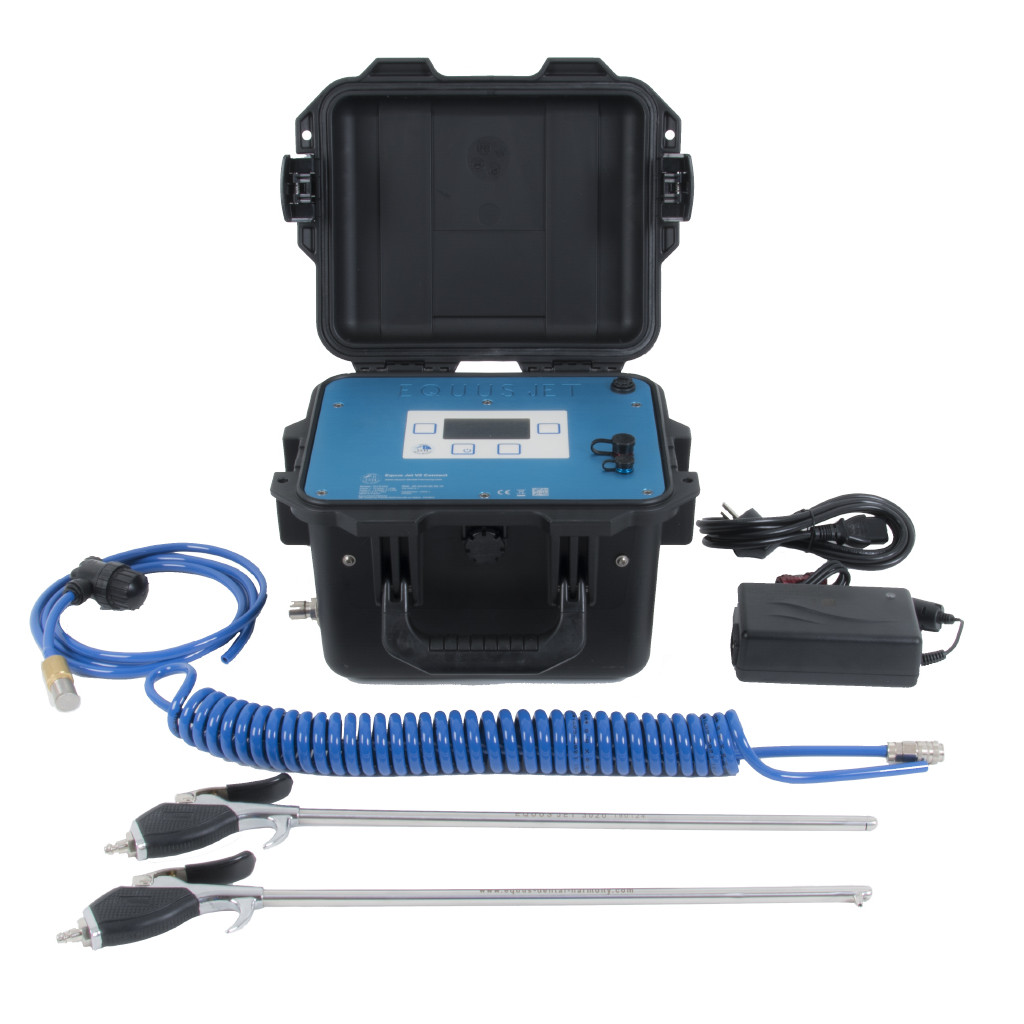  
Equus Jet Connect
Ref: EJ-EJV21
Available on order with delay
Gamme connect
Made in France
The Equus Jet Connect, the latest Equus Jet, is part of the Connect range and allows remote use. This is the most advanced model of the Equus Jet.
It has high quality and will be ideal for cooling handpieces, surgeries, sinus cleaning, endoscopy, diastema care...
Description
Description
The new connected system for equine dentistry, new generation!
What are the advantages of the connected system?
Design for equine dentists and veterinarians, the Equus Jet Connect, equipped with a Bluetooth system, offers all the necessary power with fingertip management:
all functions are directly accessible via the Android application on a phone or tablet,
all connected devices are connectable together. Totally innovative system! More information on the Connect range.
The usefulness of the Connect version is to work remotely with several products that work together.
For equine dentistry practitioners and veterinarians, Equus Jet Connect offers all the power you need on the screen management:
control screen on the Equus Jet Connect allowing settings and operation,
display of the battery level on the screen,
real-time fluid temperature sensor,
real-time pressure sensor,
variation in flow and pressure,
digital DSP microprocessor management,
display of the working range of the pedal,
pedal battery gauge display,
remote update of the application.
The Equus Jet Connect can have several pumps:
high pressure pump, pressure 10 bars, flow 7l/min,
cooling pump, pressure 2 bars, flow 450ml/min,
peristaltic pump for the injection of sterile products, pressure 1 bar, flow 700ml/min.
The Equus Jet Connect is equipped with a Lithium-Ion battery.
The input hose pipe, made of polyurethane, is equipped with a filter and a strainer in order to limit the entry of dirt into the pump.
The spiral water outlet hose pipe is equipped with a quick connector with a valve, which allows you to change the wand under pressure without turning off the pump.
Most of the product : 
6 levels of pressure possible,
several pumps optional,
remote control via Bluetooth (Connect range),
helps cleanse the sinuses,
also available with attachments for Pegasos trolley / medical rail,
a plate for wall mounting is also available (contact us).
Equus Jet Connect comes with:
an input hose pipe,
an output spiral hose pipe,
one diastema wand,
one flushing wand,
one charger,
cooling pipe (if coolling pump option),
2 pipes of different diameters with luer lock fittings (if peristaltic pump option).
Please remember to choose the configuration of your product. The most common use of high pressure and cooling pump, we offer this version by default.
Size of the pump box: L30 x W25 x H19.5cm
Weight of the pump box: